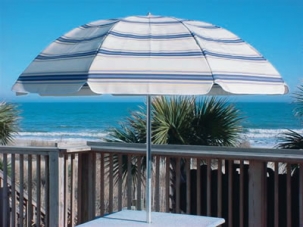 Shade Yourself with Style
Highland Taylor offers outdoor umbrellas made from durable, awning-grade outdoor fabrics which are known for exceptional protection against nature's worst elements and high resistance to fading susceptibility. Choosing the right outdoor umbrella has never before been so easy than using Highland's step-by-step online ordering process. Whether you're seeking a patio or market umbrella for your outdoor living space, the possibilities are endless when choosing from the wide range of expansive outdoor grade fabrics.
Highland's patio umbrellas have a valance on the edge that adds a decorative touch and are great for extra shade as the sun shines directly overhead. Market umbrellas have no valance, but feature a vent that helps prevent direct wind damage. In addition to the extended line of outdoor umbrellas, we also carry a full range of decorative and simple umbrella stands. An umbrella base or umbrella stand is a must-have accessory for any outdoor umbrella to remain secured in an upright position.