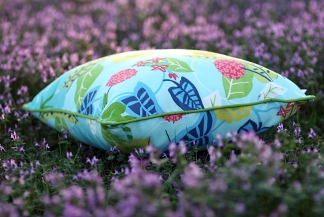 Custom Cushions & Throw Pillows
Creating custom cushions or custom pillows for your outdoor teak furniture has never been easier than with Highland Taylor's convenient online ordering tool. We closely work with our customers in the design process so that our talented craftsmen can easily create and ship these tailor-made products directly to your door step. Highland's online ordering tool is simple to use and has an easy step-by-step order process that will guide you in creating that perfect made-to-order product according to your exact specifications.
With the Highland Taylor online custom-building tool, the customer always has the advantage and final decisions in the design process. There is something uniquely special about owning custom-made cushions and pillows from Highland Taylor, and now that you're in complete control the options are limitless. Start creating your indoor or outdoor custom product today by choosing from our HUGE selection of assorted fabrics from top fabric manufacturers like Sunbrella, Outdura, Robert Allen, and more. Simply select a custom product below to get started.