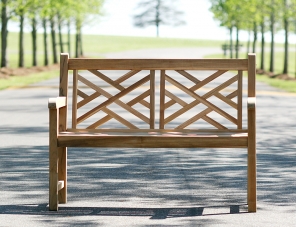 Teak Seating for Outdoor Living
Bringing the comforts of the indoors to your outdoor living space is easy with Highland Taylor teak. The teak seating selection that we proudly carry is unsurpassed in design style and longevity and will create the perfect outdoor retreat to be enjoyed throughout the year. Gaining more usable space for your home or business can be as rewarding as simply choosing from the wide selection of teak chairs, teak chaise lounges, teak steamers or teak benches.
Teak benches transition well into patio and garden areas making them a wonderful addition to any outdoor setting. The teak chaise lounges and teak steamers are an excellent choice for relaxing poolside or from a backyard patio. If you are simply looking to add extra chairs for entertaining, our diverse selection of teak chairs can be used individually or paired with one of our teak tables to create an inviting outdoor area.
Teak Seating for Outdoor Living