Fine Patio Teak Furniture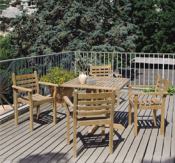 Highland Taylor offers fine quality patio teak furniture crafted from premium Indonesian teak wood harvested in an environmentally responsible manner. Specializing in the contract and trade markets, we provide prompt responses to your project needs including custom design inquiries. From design sketches to samples all the way through to timely delivery, clients trust our experience to meet their installation deadlines on time and within budget. Highland Taylor is your one stop source for all your teak furniture needs including teak chairs, teak tables, teak benches and many other outdoor teak items.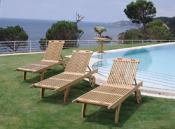 Highland Taylor consistently delivers exceptional value at very competitive costs. In case you are not familiar with our work, sample lists are available of our installed teak furniture projects, including resorts, restaurants, clubs, municipal, commercial and campus applications. Immediate shipments are available and we will drop ship teak furniture anywhere with no minimum orders. Wholesale teak furniture pricing is also available to select retailers upon request.
We are also offer a wide variety of outdoor accessories including custom designed
outdoor furniture cushions
, to fit your custom teak furniture or any outdoor seating, and a wide variety of
market umbrellas
, manufactured under our Umbrella Source name, made with high quality Sunbrella® fabric. For more information, please call us toll free at 800.510.TEAK (8325) or 334.558.0863. You may also tell us your needs via email on the Request Information page. We will promptly contact you with the information you need. Thank you for visiting Highland Taylor!