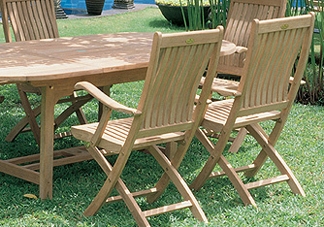 Benefits of Teak Wood
Strong & Durable:
Teak wood has many advantages vs. other hard woods such as oak and pine. Teak furniture has been known to be the optimal wood to make patio furniture. The most popular attribute of teak furniture is how strong, durable and beautiful it is. However, this hardwood -- found in Indonesia, Thailand, and Malaysia -- is also known for how long it lasts. There are teak benches in English courtyards that are more than 75 years old. Teak wood was first used by the Dutch as a shipbuilding material, so it had to be strong to endure the long voyages at sea.
Waterproof:
What makes teak wood unique is it retains its natural oils even after being cut. Because of this, teak furniture will not rot. Even after ships that were made of teak wood were put out of service, the teak wood was still usable for many other application. "Reclaimed" teak was a big business and was used for railroad ties, building materials, and many other applications. So, over hundreds of years, people across the country starting seeing the many uses that teak wood had. Simply imagine the waterproof attribute it has and how well it would stand up in your backyard for many years! With teak wood being waterproof and rot-proof, teak furniture is an exceptional choice for your patio furniture.
Low Maintenance:
Standard patio furniture made of oak, pine, and even metal can be extremely high maintenance. These materials not only attract dirt and grime, they become "old" looking in just a few years...sometimes months. Teak furniture, on the other hand, is very low maintenance. New teak furniture has the golden, honey-tone look and gradually turns to an elegant gray over time. Teak furniture is your ultimate patio wood furniture that carries low maintenance expectations.
Stylish:
Teak furniture today is comes in many styles - from traditional to more modern styles. There are even teak furniture brands today that offer many styles that have curved arm chairs and engraved seat and bench backs.
From deep seating teak furniture sets to 8' teak benches, the styles that are offered today will satisfy many taste. Teak patio furniture carries elegance as well and is type of furniture that comes with respect within the patio furniture industry.
Long Lasting:
Expect "A" grade teak furniture to last for many years. Pay attention to the grade of teak you buy (A, B, or C) and also look at the weight of the piece you are buying with the heavier the better always being the rule. "Furniture for Life" is what the teak brand Highland Taylor and many others say about teak furniture. With teak furniture lasting so long, your return on investment will be very high with many years and generations of quality use.