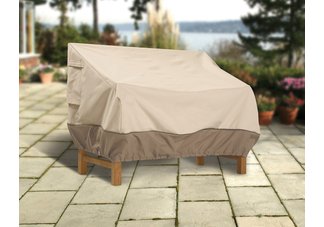 Outdoor Teak Furniture Covers
At Highland Taylor, we know the importance of teak furniture as a major investment in the creation of an outdoor entertaining space. With the addition of durable and long-lasting teak furniture, there is still a concern for the general upkeep and overall aesthetics of such furniture. To ensure that your teak furniture continues to look great for years to come when not in use, we recommend using these patio furniture covers to protect the furniture from harsh and unpredictable outdoor elements. Using outdoor furniture covers will prevent build-up and accumulation of such things as moisture, leaves, tree sap, bird droppings, insects, and dirt (some of nature's finest elements).
It is always recommended to bring in any outdoor furniture (including teak) when not in use for long periods of time. On those occasions when this is not an option, simply keep your teak furniture covered with one of these matching outdoor covers. Whether you need a patio furniture cover for a teak bench or teak chair, we make it easy to choose from a number of different styles and sizes to cover all of your teak furniture. Because you've taken that grand first step in beautifying your outdoor living space, protect that investment with a teak furniture cover specifically designed for your teak furniture.
Outdoor Teak Furniture Covers